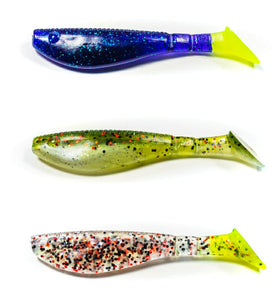 THE FLEX MULLET DESIGN
The Flex Mullet is the perfect integration of flexibility with durability. Created to give hardcore anglers the greatest technical advantage when targeting estuarine species like reds, specks, flounder, and snook. We've designed the Flex Mullet with a notched tail design which purposefully causes instability in the tail. This instability is what gives the Flex Mullet its amazing action, something that will cause even the most hesitant red or speck to strike. We at Boca Chica strive to create lures that offer serious anglers the ultimate on-the-water advantage. Get bowed up with the Flex Mullet.
THE Q-TAIL DESIGN
The Q-Tail is for those who like a longer lure that's still super finesse. We designed the Q-Tail with wade and drift fisherman in mind. At 4.5" long, the Q-Tail is ideal for covering lots of water and presenting an irresistible profile for big trout and reds. The slit in the tail creates tons of action and vibration in the water, eliciting huge strikes. If you're a wade or drift fisherman, this is a must-have lure. Put the Q-Tail in your box and get bowed up!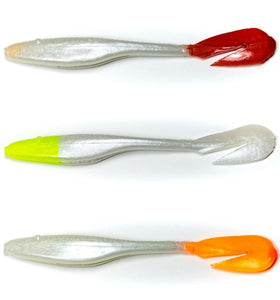 Testimonials
They have a great selection of lures, and are very durable. The Flex Mullet is my go to for redfish lure.

Jorge Eduardo Martinez
Boca Chica Bait's Flex Mullet in the New Penny Pearl is my favorite bait. I love the quality of these baits and how easy they are to thread on a jig head.

Ryan Cash
Boca Chica Baits are my go to bait for sight fishing reds in Louisiana. They have incredible action and a wide variety of colors to match any conditions.

Matthew Carr
Boca Chica Baits are my go-to paddle tail. Whether I'm chunking them for trout or reds, they always deliver more aggressive strikes! Their realistic swimming profile mimics a real bait fish perfectly. I highly recommend you give them a try.

Capt. Mick Linares
Great baits, great customer service, and an awesome mission. I have been nailing specks and reds in Timbalier Bay, LA with the Flex Mullet "Dorado". If they're there, they are gonna smack the Flex Mullet. 

Caleb Benjamin Taylor