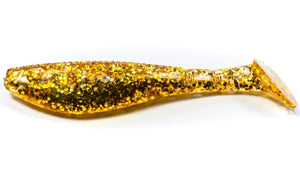 Flex Mullet "Dorado"
IT'S LIKE A SOFT GOLD SPOON!!! The 3.5″ Flex Mullet "Dorado" is our OG, and is the ideal technical soft plastic when stalking the flats for reds, specks, flounder, or snook. The Flex Mullet "Gold Spoon" aka "Dorado" incorporates our flex-tail design in order to give hardcore anglers a technical advantage when in the marsh. The "Dorado" is packed with gold fleck which gives the underwater appearance of fish scales. It's irresistible to predatory fish.
Where and How to Fish the "Dorado"
The Flex Mullet "Dorado" is at home in shallow marsh habitat, and should be fished in dirty-water conditions for best results. The perfect setup for the "Dorado" is weedless with an underspin. The Owner Flashy Swimmer is our favorite. Check them out here. Straight retrieve along marsh grass or over shallow oyster beds and watch the redfish wakes! The Flex Mullet "Dorado" is great for both site casting and blind casting. 
Pick up the Flex Mullet "Dorado" (here) today, and getchasum skinny water redfish action on your next fishing trip!
Thanks for reading! If you enjoyed the read, subscribe to our newsletter. Be sure to check out our shop, and don't forget to follow us on Facebook here (Boca Chica Bait Company), Instagram here (@bocachicabaits), and Twitter here (@bocachicabaits).
Thanks for reading and tight lines,
Taylor – Founder of Boca Chica Baits
---