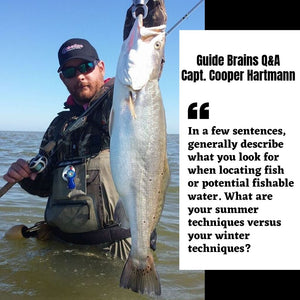 Guide Brains: Q&A With Capt. Cooper Hartmann
Git 'R' Bent Guide Service
Today on Guide Brains, we chat with Capt. Cooper Hartmann of Git 'R' Bent Guide Service out of Seadrift, TX. Not only has Cooper been guiding for over a decade, he is also one heck of tournament! I've had the pleasure of duck hunting with Cooper during a visit to Bay Flats Lodge, also based out of Seadrift, and if you're a duck hunter I highly recommend you check out Bay Flats and ask for Cooper to be your guide! Awesome service and awesome people.

Cooper is an expert angler and full of knowledge, so if you've been looking to hone your trout and redfish skills, pay attention! To the Q&A.
The Technical Stuff:
Boca Chica: Tell us a little bit about Git 'R' Bent Guide Service.
Cooper: I guide out of Sedrift, TX, and I have been a licensed guide on the Texas Coast for 13 years. As a guide I run up to 300 trips a year along the middle Texas Coast. I mainly target redfish, trout, black drum, and flounder on my daily trips. Aside from guiding, I also regularly fish professional redfish and trout fishing tournaments.
Boca Chica: Do you primarily wade fish, or do you fish from the boat?
Cooper: As an all around guide service we give the option of both wade fishing or drift fishing, depending on the customers preference. The type of fishing also depends on the season.

Boca Chica: Do you use artificial or live bait?
Cooper: Both, depending on the bite.

Boca Chica: What's your go-to color?
Cooper: Clear, or variations of clear are the go-to color pattern on the middle Texas Coast.

Boca Chica: In a few sentences, generally describe what you look for when locating fish or potential fishable waters. What are your summer techniques versus your winter techniques?
Cooper: My primary indicators of fishable waters are, bait popping or working along the surface of the water, color change or differing water clarity, and pockets of sand within dense seagrass habitat.
During the summer I primarily look for sand pockets on a grassy shorelines, During the winter, depending on water temperature, I concentrate on deeper area off of shallow flats and muddy areas.

Boca Chica: You previously said that you fish a lot of tourneys. What are some of your favorites?
Cooper: I fish tourneys throughout the year for redfish and trout. My favorites include the Rudy's Redfish Series and the IFA Series.
Just For Fun:

Boca Chica: What are some of your bucket list species?
Cooper: Peacock bass, blue marlin, tarpon
Boca Chica:
 What's the most exotic destination you've fished?
Cooper:
 Costa Rica
Boca Chica: Are you a baitcaster or spinning guy?
Cooper: Mostly baitcaster

Boca Chica: What's your largest trout? What's your largest red?
Cooper: trout: 31 1/2 inches; redfish: 48 1/4 inches
And that wraps up our second installment of Guide Brains. Click here to check out Cooper's Facebook page, and here to check out the Git 'R' Bent Guide Service page. Again, if you enjoyed the read and would like to know when we publish another article, scroll down to the Newsletter Sign Up section and send us your email. Thanks again folks, and tight lines.
Thanks for reading! If you enjoyed the read, subscribe to our newsletter. Be sure to check out our shop, and don't forget to follow us on Facebook here (Boca Chica Bait Company), Instagram here (@bocachicabaits), and Twitter here (@bocachicabaits).
Thanks for reading and tight lines,
Taylor – Founder of Boca Chica Baits
---