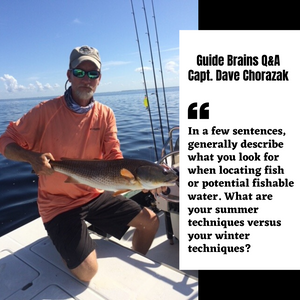 Guide Brains: Q&A With Capt. Dave Chorazak
Inshore Dream Fishing Charters
Today on Guide Brains, we chat with Capt. Dave Chorazak of Inshore Dream Fishing Charters out of Punta Gorda, Florida. Dave has called the southwest coast of Florida, specifically Punta Gorda home since 1999. While enjoying all aspects of fishing from offshore to fly fishing, his specialty is shallow water inshore fishing, with a focus on teaching people to fish with artificial lures.
The Technical Stuff:
Boca Chica: Tell us a little bit about your guide service (e.g. what your guide service is called, how long you have been a guide, where you operate out of).
Capt. Chorazak: My guide service is called Inshore Dream Fishing Charters. I primarily fish the Pine Island Sound area of Charlotte Harbor, Florida. I've fished this area since 1999 but I've only been guiding for a year. We get a lot of seasonal residents here, and in talking to them, I noticed that many of them struggle to find fishing success. I decided to focus my business on teaching people how to understand the area, find potentially productive spots, and how to present baits in a manor that will generate results.
Boca Chica: Do you primarily wade fish, or do you fish from the boat?
Capt. Chorazak: I always fish from the boat.
Boca Chica: What is usually your target species?
Capt. Chorazak: I am usually focused on Spotted Seatrout, but depending on the time of the year I will hunt Redfish, Snook, and small inshore sharks
Boca Chica: Do you use artificial or live bait?
Capt. Chorazak: I Love artificial! 8 out of 10 times, that's what I'm throwing. I will use live bait at times but I try to teach my clients to become proficient and confident in their presentation of artificial lures.
Boca Chica: What's your go-to color?
Capt. Chorazak: White on a soft bodied bait. Olive green on a hard bait.
Boca Chica: In a few sentences, generally describe what you look for when locating fish or potential fishable waters. What are your summer techniques versus your winter techniques?
Capt. Chorazak: Regardless of the season, I'm looking for grass flats that are out in front of a canal of some kind, whether it be natural or man-made. I look for areas where moving water is flushing water in and out of that canal and bringing baits across that grass flat. I also fish the depth change as the flat drops off into the canal, as predatory fish cruise those deep areas looking for unsuspecting baitfish.
Boca Chica: Do you also fish tournaments? If so, what's your favorite tournament and why?
Capt. Chorazak: I don't fish tournaments.
Just For Fun:

Boca Chica: What's your bucket list species?
Capt. Chorazak: Even though I focus on inshore fishing, I do love offshore as well and try to go whenever I can. My bucket list species has to be tuna. Yellowfin or Bluefin.
Boca Chica: What's the most exotic destination you've fished?
Capt. Chorazak: Unfortunately I'm not very exotic. Fishing the Florida Keys is special to me and I go every chance I can.
Boca Chica: Are you a baitcaster or spinning guy?
Capt. Chorazak: Spinning.
Boca Chica: What's your largest trout? What's your largest red?
Capt. Chorazak: Largest trout was 25 inches. Largest Redfish 30 inches.
And that's a wrap. Click here to check out Dave's Facebook page, and here to check out the Inshore Dream Fishing Charter's page. If you enjoyed the read and would like to know when we publish another article, scroll down to the Newsletter Sign Up section and send us your email. Thanks again folks, and tight lines.
Be sure to check out our shop, and don't forget to follow us on Facebook here (Boca Chica Bait Company), Instagram here (@bocachicabaits), and Twitter here (@bocachicabaits).
Thanks for reading and tight lines,
Taylor – Founder of Boca Chica Baits
---